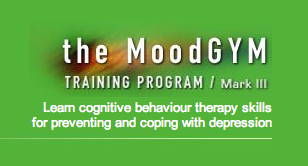 MoodGYM is a free online program that aims to reduce mild to moderate symptoms of depression and anxiety by teaching you the principles of cognitive behaviour therapy.
What does the program consist of?
five 20- to 40-minute modules 

an interactive game

anxiety and depression assessments

a downloadable relaxation audio file 

printable worksheets

an online workbook for you to record your responses to quizzes and exercises and track your progress

feedback assessment 
​What principles are learned?
the relationship between thoughts and feelings
relaxation
problem sovling
The modules are designed to be completed sequentially over a 6-week period. At the completion of each module, you will be provided with a summary of the module's key concepts, as well as any changes in the your self-reported depression and anxiety symptoms. Throughout MoodGYM, you will be encouraged to further develop the skills learned in the program by applying and practicing them in real-world situations.
Overview
Age

adolescent & adult

Language

English, Chinese, Dutch, Norwegian

Agency Responsible

Centre for Mental Health Research

Australian National University 

Intervention Type

CBT: cognitive restructuring, activation, relaxation, problem solving, early schemas, interpersonal components

Access

free

Length

5 modules taking 40 mins each

& additional exercises

Visuals

abstract cartoons, deep colours

Audio

only one

Video

no

Printable worksheets

multiple 

Active Reach Out

no 

Research Trials

17

Research RCTs

7
To see a list of all MoodGYM's research evidence and papers please visit the Beacon's review.
Pros & Cons
| | |
| --- | --- |
| PROS | CONS |
| Free and easily accessible | Structured: must go through modules in order, no room to choose freely which area you'd like to focus on |
| You are walked through examples with characters and given pros and cons of the characters reactions to the situation | Australian focused: Some words may be uncommon and hard to understand for non-Australians |
| Depression and Anxiety quizzes are taken in each module: at the end of the course you can see how your scores relate to each module and overtime (given as bar graph)  | Self-motivated: No active outreach to users |
| Activities include input areas where you can write your own problems, solutions and thought processes  | Names of characters throughout program may be forgettable to some users, i.e., CYBERMAN who is a character who "looks good on the outside, but seething wreck on the inside" |
| Lots of information and links to various resources in Australia that are directly applicable for Australian-based users: Worldwide resources also available | Depression and Anxiety quizzes are mandatory to continue to next modules |
| Interventions and exercises were easy and straightforward  | Warpy Thoughts test results given as a numerical score which may be difficult to interpret  |
|   | Layout may be viewed as outdated by some users  |
*Please note that WalkAlong does not have any affiliation with MoodGYM. This post is not meant to be a promotion of MoodGYM, but rather an objective overview of the program in order for you to make an informed decision.